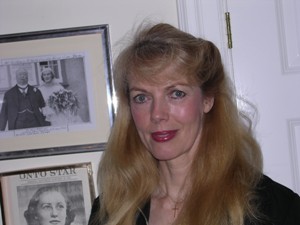 Trelawny Howell
Great-Grandniece of Sir Henry Pellatt
Builder of Casa Loma
Tel: 416-927-9866
Fax: 416-927-1825


TRELAWNY Linda Elizabeth HOWELL
Great-grandniece of Sir Henry Pellatt (builder of Casa Loma)
Oct-2010 Annex Gleaner – Howell defends her lineage
Lineage
Sir Henry Pellatt was knighted by Queen Elizabeth II's father King George VI for pioneering his Toronto Electric Company, which brought electricity from Niagara Falls to Toronto.
Between 1911 and 1914, Sir Henry built Casa Loma for his wife, Lady Mary Dodgson-Pellatt.
Lady Mary's mother, Margaret Carr-Walton-Dodgson, had previously married Thomas Walton. Their son Robert Walton was Lady Mary's brother, and Trelawny Howell's great-grandfather.
Robert's daughter Mary Walton was Lady Mary's niece, and Trelawny's grandmother. Mary's daughter Penrose (Peggy) Smith was Lady Mary's grandniece, and Trelawny's mother.
Peggy married Trelawny's father, Hector Mansfield Howell, a trial lawyer and multi-linguist from Winnipeg who later became a Lieutenant Commander in Canada's navy.
Trelawny Elizabeth Linda Howell was born on February 7, 1952 – named in honour of that day's 21-gun salute proclaiming Queen Elizabeth II's ascent to the throne.
In addition to her famous great-great-uncle, Trelawny Howell's paternal great-grandfathers were Hector Mansfield Howell, Chief Justice of Manitoba, and Banning Richardson, the Arch Deacon of London, Ontario.
Trelawny's family background in law, religion and Sir Henry's legacy has given her the strength and passion to fight for justice and to persevere in all of her endeavors.
Other descendants of Sir Henry Pellatt
John Pellatt, the great-grandson of Fred Pellatt, one of Sir Henry's
brothers, lives in the Toronto area. He is a successful comedy writer and broadcaster.
Mary Pellatt, daughter of Sir Henry's niece Mill Pellatt, lived in
British Columbia until her death in 2005.