Kelly Grant Wednesday, Jul. 07, 2010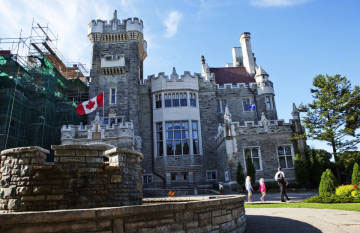 Service club has until July 31 to remove chair alleged to have directed legal work to himself
City Hall Bureau Chief Globe and Mail
The city could move to evict the Kiwanis Club from Casa Loma if the club doesnï't remove by July 31 a board chair who allegedly directed $218,938 in legal work to himself over 18 months.
Council set the deadline while voting to give the service organization, which has operated Casa Loma since 1937, another chance to meet the terms of a management deal inked with the city in 2008.
City manager Joe Pennachetti said the Kiwanians have agreed verbally to three of the four conditions council endorsed Wednesday, namely that Casa Loma�s board of trustees meet monthly; that Kiwanis develop a revised financial plan; and that a joint working group be established so the Edwardian mansion can begin to meet its goals.
But the club has so far refused to bend on a fourth caveat: that Richard Wozenilek, the lawyer who chairs Casa Loma�s hybrid city-Kiwanis board, step down.
Mr. Pennachetti said that if Mr. Wozenilek is still chair after July 31, �the process for ending the agreement starts.�
Joachim Gerschkow, president of the Kiwanis Club of Casa Loma, said in an e-mail that the club intends to make a decision on Mr. Wozenilek�s future before the deadline.
The figure of $218,938 in legal work is nearly twice the $118,000 the city initially accused Mr. Wozenilek, a volunteer chair, of billing to Casa Loma. The city now says he charged $107,938 for 260 hours of work in the first six months of 2008 and another $111,000 for the 12 months that followed.
In an interview last week, Mr. Wozenilek denied he did anything wrong. He said he never hid the fact he acted as Casa Loma�s lawyer. Mr. Wozenilek was not available to comment Wednesday night, but Mr. Gerschkow said that only $40,000 of that bill was charged after Jan. 1, 2009, when the financial side of a new deal with the city took effect.